Yazi
Quick Start Guide
---
To begin with, first copy Yazi to the Applications folder at the root level of your hard drive. Then log-out of your account and log back in in order for Yazi's services to be recognized.
When you run Yazi for the first time, you will be presented with the dictionary browser window: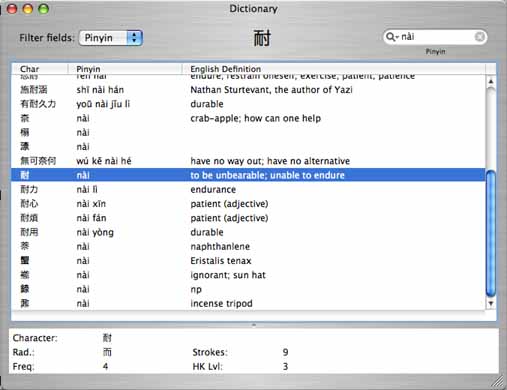 There are several points of interest in this window.
The "Filter Fields" pop-up menu allows you to filter the dictionary so that it only displays entries that contain the selected field.
The search field allows you to search within the displayed entries. You can select which fields to search. If you are searching the Pinyin field, you may want to include tone markers in your search. To do this, each character can be followed by the tone number, and when you do a lookup the tones will automagically be converted for you. (If you are interested in having this as another Yazi service, please let me know.)
The window view can be split between the entries in a column format in the top area and a wider format in the bottom of the window. In the view menu you can select which dictionary entries appear in which window.
Double clicking on an entry line will load it into a floating window for eaiser viewing.
While you can try to edit the dictionary entries, at this time changes are not saved.
Probably the most useful feature of Yazi is the lookup services it provides. If, for instance, you are reading a web page and you don't know one of the characters on the web page, you can select it, choose Quick Lookup from the Yazi service menu, and if there is a match in the Yazi dictionary, it will display it in a floating window. See services for more information on the look-up and conversion services that Yazi offers.
All characters that you lookup using this method are stored into a history file that you can export for later study. You can also delete characters out of Yazi's history record by selecting them and pressing delete.
You can use the Feedback choice in the Yazi menu to send feedback about Yazi directly from the application, as long as you are connected to the internet. Please let us know any comments or suggestions for the application!
---
© NS Software, All rights reserved.
This software is provided without warranty implied or otherwise.
Last modified:
---