PreDView
PreDView is video/audio preview application for OS X
---
---
PreDView allows you to preview the video and audio sources available to your computer. This program is designed to allow you to preview these streams in the easiest and most natural way possible. Version 1.1.1 adds an extended full-screen mode.
Example Usage:
If you have a VCR and a DV converter, use it to watch TV on your computer.
Use it to preview the video from your iSight or USB web-cam.
Use as a baby monitor.
Let us know about other creative uses!
PreDView supports floating and regular windows, transparency, and many other features. Full documentation for PreDView is available from the help menu in the application.
Screen Shots
Floating & transparent window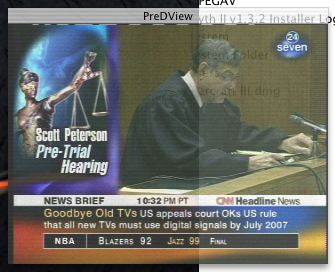 Regular PreDView window
Version History:
| | | |
| --- | --- | --- |
| 1.1.1 | 11-29-04 | Fixed a bug with the viewing area shrinking in full screen mode with a regular window. Added a full-screen mode which hides UI elements, in addition to full-screen windows. |
| 1.1 | 11-16-03 | Added the ability to block the energy / screen saver from activating. |
| 1.0 | 10-29-03 | Initial Release |
---
© NS Software, All rights reserved.
This software is provided without warranty implied or otherwise.
Last modified:
---